Here are the Pontiac GTO auction results at this year's 2015 Barrett-Jackson Scottsdale auction.
The big winner was this stunning, ultra-rare triple-white 1969 GTO Judge convertible. It sold for $181,500 with the buyer's commission!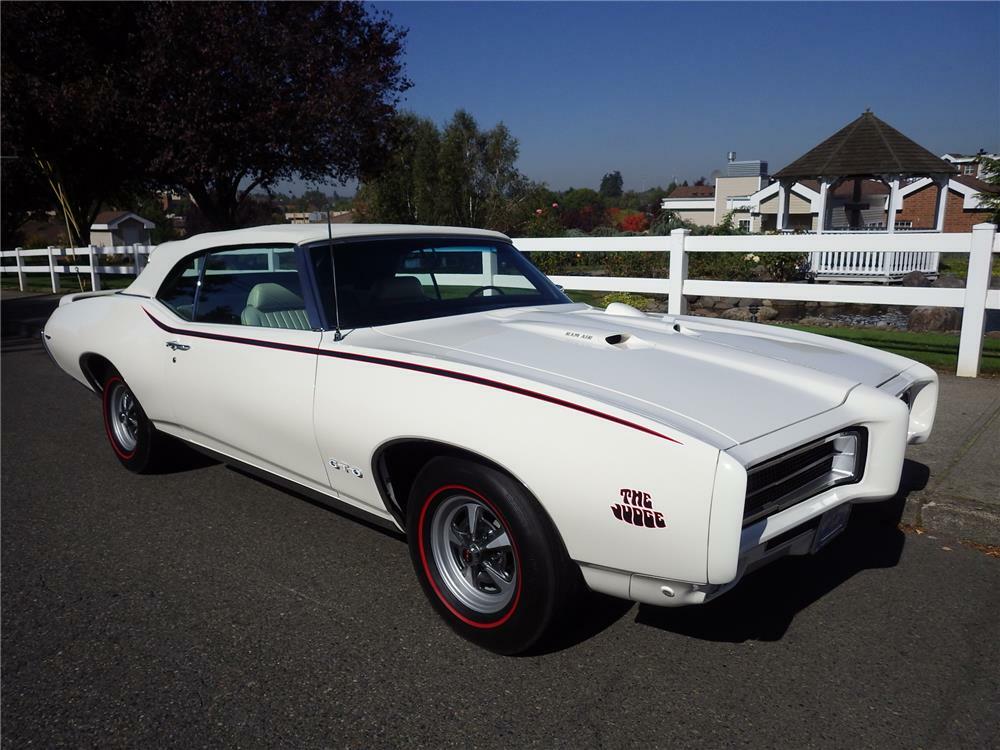 One of two GM-built pace vehicles for the 2005 and 2006 Rolex Sports Car Series. This vehicle paced races at more than 30 venues.
---
Approximately 200 miles on a rebuilt motor. 389cid bored to 0.030, three Rochester carburetors, larger Be Cool aluminum radiator, 3.17 posi-traction in rebuilt rear end and a powder coated frame.
---
Rare Tiger Gold promotional color with Hurst wheels. Frame-off restored.
---
Frame-on restoration with a straight body and very nice paint. Upgraded with a 455cid HO V8 and Judge decals, automatic transmission, air conditioning and gauges. New convertible top. Original Build Sheet and lots of documentation.
---
A real PHS-documented 1965 GTO with correct WS Code engine upgraded with Tri-Power, 4-speed transmission, Teal Turquoise paint, highly detailed engine and undercarriage.
---
Unrestored, original 1967 California built GTO. 400/360hp, 4-Speed. 2014 GTO Nationals Concours Gold. Amazing original drivetrain, paint, glass, chrome and stainless. Factory markings, 76,000 original miles, Protect-O-Plate, PHS and owners documented.
---
From PHS private collection of Jim Mattison. California car, loaded, all original panels with factory air conditioning. Frame-off restored. Pontiac Division and PHS paperwork.
---
This is a totally restored car with a few upgrades. Nothing left untouched, everything is new or restored and runs great.
---
1971 Pontiac GTO Raven Black, 4-speed with Eye Brow stripes.
---
PHS documented GTO. 389cid, 4-speed transmission with factory air conditioning.
---
Frame-off rotisserie restoration. This PHS-documented 1969 Pontiac GTO is finished in PPG Matador Red with a black cordova top. Powered by a date-code-correct 400/350hp engine backed by a matching numbers Muncie 4-speed transmission.
---
Fully restored GTO with 1973 455 engine and Muncie 4-speed, correct Martinique Bronze paint, matching 17" TorqThrust wheels and black vinyl roof.
---
Rare 1970 Pontiac GTO convertible in beautiful laser-straight black on red buckets. 400cid, 4-speed and 12-bolt with 3.55 Safe-T-Track. Judge trim added during restoration.
---
Rare factory Starlight Black GTO Judge, automatic transmission, floor shift with console, factory Formula steering wheel.
---
Body-off restoration on one-owner Florida vehicle. Full PHS documentation, Protect-O-Plate, original Bill of Sale and related documentation.
---
Ram Air III GTO Judge with numbers matching. PHS documented. Frame-off restoration.
---
Fully documented, matching numbers WS Ram Air III 400cid, complete with Muncie 4-speed transmission.
---
PHS documentation with date correct 400cid engine, 4-speed, hood tach, disc brakes, Judge package and high-end paint done in the original and very famous Carousel Red.
---
389 V8 with upgraded Tri-Power. Original Starlight Black on red interior. Original dealers shipping record. Frame-off restoration on a laser-straight body. Rare factory air conditioning.
---
Numbers matching GTO Judge hardtop coupe with Ram Air III and 4-speed Muncie transmission. Recent extensive restoration including, drivetrain, suspension, brakes, body and interior.
---
This exceptional restoration of a 1971 Pontiac GTO 'Judge' is part of the Hendricks Collection from the Gateway Auto Museum where it has been displayed since 2005. One of 357 built with matching numbers and 337 miles since restoration.
---
2001 nut and bolt restoration. PHS documented, factory correct colors, 400cid V8 engine, Muncie 4-speed, power steering, front disc brakes, Rally II wheels, Goodyear Bias-Ply tires. Bucket seats, center console, Hurst T-handle shifter, factory radio.
---
PHS documented factory air GTO Judge with less than 100 miles since rotisserie restoration. 4-speed, hidden headlights and air cleaner lid signed by Jim Wangers. Matching numbers WS engine. Receipts included.
---
This 1965 GTO is a 389/360hp factory Tri-Power, 4-speed car. Matching numbers, born-with drivetrain restored to concours specs. Received a Gold Award, Summer 2013.
---
Recent full frame-off professional restoration. Originally built with the 389/360hp Pontiac Tri-Power engine and close ratio 4-speed transmission with Safe-T-Track rear axle. All the components have been carefully restored to "as-new" condition.
---
This is a full frame-off and professionally restored to "as new" condition. This car was completely disassembled and stripped to bare metal. All original sheet metal. The original 389cid Tri-Power engine and all associated parts were completely rebuilt.
---
Full PHS documented real GTO powered by its matching numbers WT code 389/335hp V8 motor with matching numbers 4-speed manual transmission and matching numbers rear end. Rare factory color Reef Turquoise with parchment interior and white convertible top.
---
Ram Air IV engine and close ratio 4-speed transmission with an HD Safe-T-Track rear axle with 4.33:1 gears. Several years ago this car received a complete body-off, nut and bolt restoration. It comes with a complete set of the PHS paperwork.
---
A detailed rotisserie restoration done in 2006. Documentation includes a lot of original paperwork, original owner's manual and Build Sheet from Pontiac Historical Services. Excellent and ready to drive.
---
PHS Documented '65 Goat - beautiful Electric Red with black interior, 4-speed manual transmission. Original sales document. Florida/Arizona car, runs and drives like a new car.
---
---
400 Ram Air III, one of 29 automatic cars built, factory air, rotisserie restored, 2014 Concours Gold winner at the GTO Nationals. Original Build Sheet, Protect-O-Plate, PHS and more.
---
Ultra-rare 1970 Pontiac GTO Judge Convertible with Ram Air III matching numbers 400cid, 4 barrel, 366hp, L74 engine. PHS documented. Verdoro Green with Saddle interior. Will be sold at approximately 7:00pm on Friday, January 16, 2015.
---
2014 Barrett-Jackson GTO auction results
2013 Barrett-Jackson GTO auction results
2012 Barrett-Jackson GTO auction results
2011 Barrett-Jackson GTO auction results
2010 Barrett-Jackson GTO auction results